slide
slide
slide
slide
slide
Rock-Ola Bubbler Digital Music Center 90th Anniversary
Touchscreen Monitor

Bluetooth Enabled

1TB Storage

USB Port

5 Speaker System

External Speaker Compatible

Live Performance Reproduction

Remote Control

Limited Edition
Free US delivery on orders over $500

1 Year warranty on all Jukeboxes
We're proud to present this very Special Edition of Rock-Ola's classic Digital jukebox, which was created to celebrate the company's 90th anniversary.
This machine has a limited production run of just 100 units, each of which is individually numbered, and it differs visually from the standard model by virtue of its clear acrylic panels lining the bubble tubes. The effect of replacing the regular opaque covers with these is to give the jukebox an unprecedented sharp, clean look that stands out. 
Also featuring for the first time on the 90th Anniversary model is the brushed aluminum cabinet casing and the backlit Anniversary graphics on either side of the screen. All in all, it's a stunning offering from America's last remaining jukebox manufacturer and a piece that needs to be seen up close to be truly appreciated.
Drawing inspiration from the Wurlitzer 1015, the world's first 'original jukebox', this classic design has endured over 50 years with very few changes and the standard model continues to be one of the Games Room Company's most popular products. Its slimline build is echoed on this Special Edition version and allows it to fit comfortably in a room where space is at a premium by virtue of being only 48cm (19inches) deep. It has the honor of having the best sound quality of any new jukebox, and with a whole terabyte of memory represents the ultimate storage system for all your favorite tracks. With a 19" touchscreen monitor, you can sort through your extensive music collection, which the Music Center will then deliver using its 5 sophisticated internal speakers and QSC amplifier, to bring you perfect sound quality at both high and low volumes.
The more digital focus of the Rock-Ola Slimline Music Center jukebox means it is better suited than ever to mobile devices and sophisticated MP3 players, allowing you to download directly from a USB device, sync playlists to your device, or simply play your MP3 directly through the jukebox. You can also use the retractable CD tray, seen here just below the screen, to load up to 13,000 CD's into the jukebox's memory and the machine itself will then retrieve the relevant cover art from the internet to display on the touchscreen monitor.
The Bubbler shares the Wurlitzer's famous grille and gets its name from the pockets of air that float to the top of the eight bubble tubes lining the machine, as they slide through numerous deep hypnotizing colors, making the Bubbler as enchanting to the eye as it is to the ear.  The Bubbler's sophisticated 5 internal speakers employ a Dual 3-Way system for 'Live Performance Reproduction', creating a sound quality so perfect that you can close your eyes and swear your favorite musicians were playing the music right there in the room with you. It is also possible to link the Bubbler to an existing in-house Integrated Music System, such as Sonos.
Model: QB8E-90
Made in California, USA
Hard Drive can store up to 13,000 CD's worth of music
Finish: Stainless steel
Compatible with Mobile Phones and Tablets for Bluetooth streaming
Limited Edition of 25, individually numbered
5-Speaker, Dual 3-Way System for "Live" Performance Reproduction
2 x 450 Watt amplifier
QSC 425 watt RMS amplifier
Touchscreen monitor
Can be linked to an Integrated Music System (e.g. Sonos)
Electrical: 90-250 Volts [50/60 Hz]
Power Output: 1600 Watts RMS Power
Remote control included
Dimensions: (H) 61 1/2 in

 

x (W) 33 in

 

x (D) 19 1/2

 

in 
Weight 245

 

lbs
Free delivery on orders over $500 within the USA
$15 delivery for orders under $500
For delivery outside of USA see our shipping page
Features of this Juke Box
Bluetooth Enabled

Bluetooth enabled - connect via devices such as mobile.

5 Speaker System

5 speaker system - 2x 3" Tweeters, 2x 6.5" Speakers, 1x 10" Subwoofer.

Low Heat Amplifier

Low heat amplifier - ensure longevity of jukebox.

Touchscreen Monitor

Touchscreen monitor - digital interface to select your music.

Remote Control

Remote control - for ease of use.

Limited Edition

Limited edition - rare model.
SEE IT BEING BUILT
When you buy any Rock-Ola jukebox you have the option to come and see your jukebox come to life in our factory! You can meet the team that handcraft our jukeboxes and learn the intricacies, skill and passion involved in creating these iconic machines. You'll be contacted after your purchase with more information!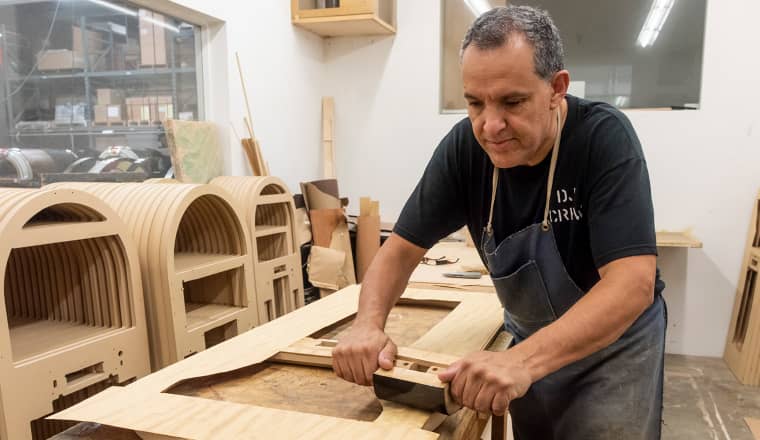 THE HISTORY OF ROCK-OLA
Since 1927. Rock-Ola has manufactured quality entertainment machines. Recognised all over the world, the Rock-Ola name is synonymous with jukeboxes and rock and roll. Since 1977, The Antique Apparatus Company has stood for uncompromising quality, taking great pride in having engineered, refined, and manufactured the first and finest "Nostalgic" Jukeboxes. In 1992 Antique Apparatus and Rock-Ola combined their strengths and merged to create the best Commercial & Nostalgic Jukeboxes on the market and they continue to do so today.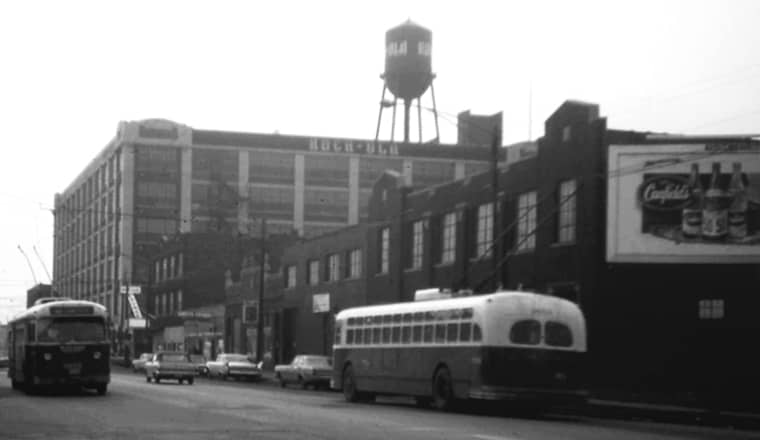 INSPIRED BY "ROCK & ROLL"
Rock-Ola Manufacturing Corporation was founded in 1927 by the Coin-Op pioneering legend David C. Rockola. In 1935, Rock-Ola vaulted into jukebox manufacturing. He inspired the term "Rock & Roll" and has left an indelible mark on an industry that literally echoes his name. Rock-Ola sold more than 400,000 jukeboxes under the Rock-Ola brand name, which predated the rock and roll era by two decades.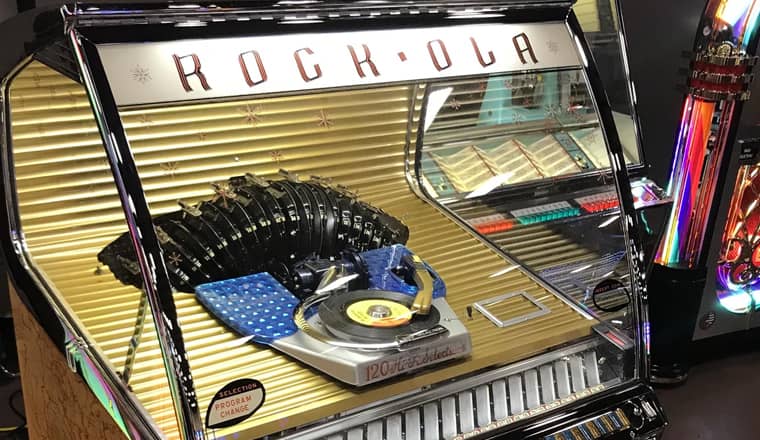 Free Shipping (US)
All our deliveries on orders are free throughout the US providing they contain one of our jukeboxes or that the total order value is at least $500.
Custom Built
Rock-Ola jukeboxes are still expertly hand-made with the same care and passion that we had when we made our very first jukebox, way back in 1927.
One Year Warranty
We are proud to say that our machines are built to last - which is why we offer a year long warranty as standard on any purchase of our jukebox.
Vinyl Player

Bluetooth Enabled

5 Speaker System

External Speaker Compatible

Rolls Pre-amplifier

425 Watt Amplifier

Remote Control
Bluetooth enabled

CD Player

5 Speaker System

Low Heat Amplifier

External Speakers Compatible

Live Performance Reproduction

Remote Control
Bluetooth Enabled

CD Player

5 Speakers System

External Speaker Compatibility

Low Heat Amplifier

Live Performance Reproduction

Remote Control

Limited Edition