slide
slide
slide
slide
slide
Rock-Ola Bubbler Playboy Music Center
Touchscreen Monitor

Bluetooth Enabled

1TB Storage

USB Port

5 Speaker System

External Speakers Compatible

Live Performance Reproduction

Remote Control

Limited Edition
Order direct from the manufacturer

1 Year warranty on all jukeboxes and speakers
This exclusive, flamboyant music system is the result of a collaboration between Ricatech and global adult entertainment brand Playboy, with us of course lending a helping hand. Music stations just don't get any cooler than this!

This exquisite jukebox oozes the timeless glamour of Playboy's 1960s Bunny Girls, who adorn the motor-driven rotating tubes on the unit's sides. The cabinet is formed from the very best cuts of walnut, satinwood, alder and other timbers, with handcrafted details and finishing. LEDs are used throughout for the brightest, longest-lasting lighting, alongside six psychedelic bubble tubes.

by the fantastic sound output associated with our brand. These icons of US culture all combine to create a true vision of American craftsmanship, and we are of course the only manufacturer of brand new American jukeboxes!
Its slimline build allows it to fit comfortably in a room where space is at a premium; it is only 48cm (19inches) deep. It has the honor of having the best sound quality of any new jukebox, and is the ultimate storage system for all your favorite tracks, holding a terabyte of free space. With a 19" touchscreen monitor, you can sort through your extensive music collection, which the Music Center will then deliver using its 5 sophisticated internal speakers and QSC amplifier, to bring you perfect sound quality at both high and low volumes.
The more digital focus of the Rock-Ola Slimline Music Center jukebox means it is better suited than ever to mobile devices and sophisticated MP3 players, allowing you to download directly from a USB device, sync playlists to your device, or simply play your MP3 directly through the jukebox.
Made in California, USA
Model QB6E-PLAY
CD Capacity: 13000 (downloaded in digital format)
Finish: Playboy theme with carved wood shoulders and carved eagle crown
Compatible with devices for Bluetooth streaming
5-Speaker, Dual 3-Way system for Live Performance Recreation (2x 3" Tweeter Speakers, 2x 6.5" Full Range Speakers, 1x 10" Dual Voice Coil Powered Subwoofer)
48cm Touchscreen monitor
1 Terabyte of storage can accommodate up to 13,000 CDs, depending on compression preference
QSC 425 watt RMS amplifier
Can be linked to an Integrated Music System (e.g. Sonos)
USB Port
External Speaker Connections
Available in 115 V or 230 V [50/60 Hz]
Dimensions: (H) 61 1/2 in

 

x (W) 33 in

 

x (D) 19 1/2 in 
Weight 245 lbs
$800 flat rate fee for shipping jukeboxes within the USA* (*excluding Hawaii & Alaska - please contact us for a shipping quote to these territories)
$15 delivery for orders under $500
For delivery outside of USA see our shipping page
Features of this Juke Box
High Power

High performance power - these jukeboxes have a high wattage.

5 Speaker System

5 speaker system - 2x 3" Tweeters, 2x 6.5" Speakers, 1x 10" Subwoofer.

Touchscreen Monitor

Touchscreen monitor - digital interface to select your music.

Large Storage

1 terabyte storage - holds 13,000 CD's in digital format.

USB Compatible

USB port - plug in your external devices.
See it being built
When you buy any Rock-Ola jukebox you have the option to come and see your jukebox come to life in our factory! You can meet the team that handcraft our jukeboxes and learn the intricacies, skill and passion involved in creating these iconic machines. You'll be contacted after your purchase with more information!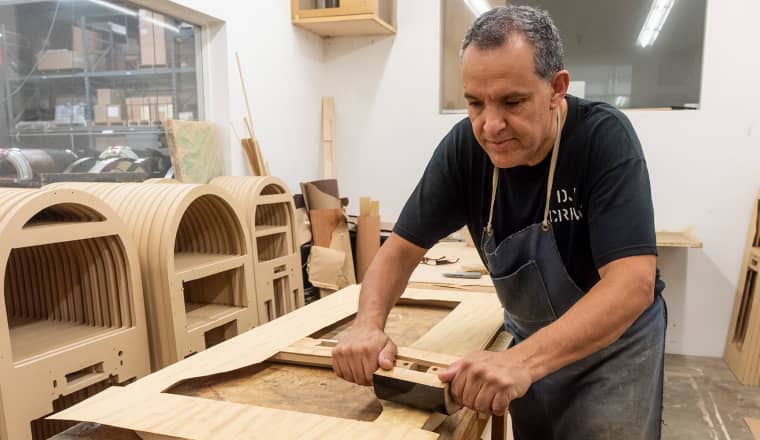 The History of Rock-Ola
Since 1927. Rock-Ola has manufactured quality entertainment machines. Recognised all over the world, the Rock-Ola name is synonymous with jukeboxes and rock and roll. Since 1977, The Antique Apparatus Company has stood for uncompromising quality, taking great pride in having engineered, refined, and manufactured the first and finest "Nostalgic" Jukeboxes. In 1992 Antique Apparatus and Rock-Ola combined their strengths and merged to create the best Commercial & Nostalgic Jukeboxes on the market and they continue to do so today.
Inspired by "Rock & Roll"
Rock-Ola Manufacturing Corporation was founded in 1927 by the Coin-Op pioneering legend David C. Rockola. In 1935, Rock-Ola vaulted into jukebox manufacturing. He inspired the term "Rock & Roll" and has left an indelible mark on an industry that literally echoes his name. Rock-Ola sold more than 400,000 jukeboxes under the Rock-Ola brand name, which predated the rock and roll era by two decades.