slide
slide
slide
slide
slide
'New' Rock-Ola Bubbler CD Jukebox Crystal Edition
Bluetooth Enabled

CD Player

5 Speaker System

External Speaker Compatible

Low Heat Amplifier

Live Performance Reproduction

Remote Control

Limited Edition
Order direct from the manufacturer

1 Year warranty on all jukeboxes and speakers
We're proud to present this very Special Edition of Rock-Ola's classic CD jukebox, the 'Crystal' with bi-metallic design featuring clear acrylic pilasters and an extra rotating color cylinder, the overall aesthetics are based upon the hugely popular 90th Edition. The clear acrylic panels give the crystal jukebox an unprecedented sharp, clean look which really stands out.

Even from a distance the Crystal Edition is markedly different from its stablemates in appearance, with the clear casings on the side pilasters giving the Bubbler a brighter and sharper visual edge. All in all, it's a stunning offering from America's last remaining jukebox manufacturer and a piece that really needs to be seen up close to be truly appreciated. The brushed aluminum finish is really striking.
The Crystal range will extend to include all finishes on our standard cabinet (not speciality models) so we will do a high gloss black and white model, walnut, black and oak as well as chrome instead of the brass finishings.
The Rock-Ola Bubbler CD-8 is manufactured by Rock-Ola, creators of the only true authentic, brand new American CD jukebox on the planet. Drawing inspiration from the Wurlitzer 1015, the world's first 'original jukebox', this classic design has endured over 50 years with very few changes.
The Bubbler shares the Wurlitzer's famous grille, and gets its name from the pockets of air the float to the top of the eight bubble tubes lining the machine, as they slide through numerous deep hypnotizing colors, making the Bubbler as enchanting to the eye as it is to the ear. In addition to its beauty, the Bubbler's cabinet is durable and robust, and of the best overall quality (attesting to the longevity of its iconic design).
It has the honor of having the best sound quality of any new jukebox, with its many innovative features all working in conjunction to bring you perfect sound quality at both high and low volumes. As standard, our AV technicians fit a Bluetooth dongle which allows a remote connection so that it can be paired with any blue tooth music device (e.g. an iPod or iPhone).
The Bubbler's sophisticated 5 internal speakers employ a Dual 3-Way system for 'Live Performance Reproduction', creating a sound quality so perfect that you can close your eyes and swear your favorite musicians were playing the music right there in the room with you. The authentic disc loader is modeled closely after the older designs used to play the 45rpm vinyl records in 1950s America, and the 100 Capacity magazine lets you fill the Bubbler CD-8 to the brim with albums of your choice; allowing you to enjoy your favorite artists in perfect quality, from the comfort of your home. It is also possible to link the Bubbler to an existing in-house Integrated Music System, such as Sonos
Special Crystal Edition with clear pilasters

Made in California, USA
CD Capacity: 100
Finish:

Brushed Aluminum

Compatible with Mobile Phone and tablets for Bluetooth streaming
5-Speaker, Dual 3-Way System for "Live" Performance Reproduction
CD Player and Self-Adjusting Laser
QSC 425 watt RMS amplifier
Can be linked to an Integrated Music System (e.g. Sonos)
Electrical: 90-250 Volts [50/60 Hz]
Remote control included
Dimensions: (H)

 

61 1/2in

 

x (W) 33in x (D) 27in
Weight 310 lbs
$800 flat rate fee for shipping jukeboxes within the USA* (*excluding Hawaii & Alaska - please contact us for a shipping quote to these territories)
$15 delivery for orders under $500
For delivery outside of USA see our shipping page
Features of this Juke Box
Bluetooth Enabled

Bluetooth enabled - connect via devices such as mobile.

High Power

High performance power - these jukeboxes have a high wattage.

External Speakers Compatible

External speaker compatibility - connect with integrated music system such as Sonos.

CD Player

CD player - directly plays CD's through this machine.

Remote Control

Remote control - for ease of use.

Limited Edition

Limited edition - rare model.
SEE IT BEING BUILT
When you buy any Rock-Ola jukebox you have the option to come and see your jukebox come to life in our factory! You can meet the team that handcraft our jukeboxes and learn the intricacies, skill and passion involved in creating these iconic machines. You'll be contacted after your purchase with more information!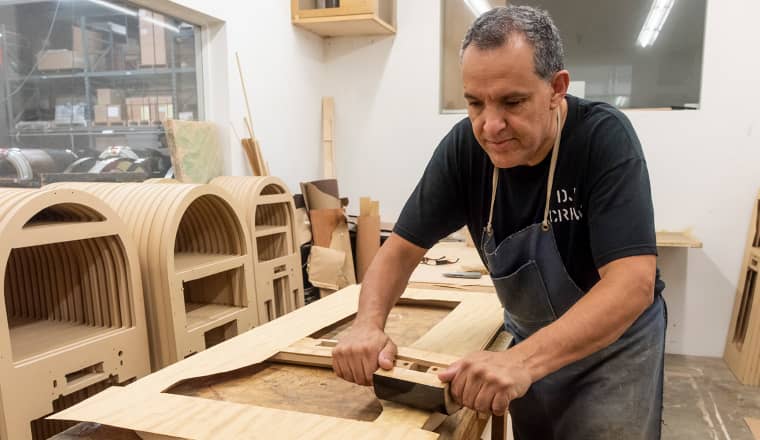 THE HISTORY OF ROCK-OLA
Since 1927. Rock-Ola has manufactured quality entertainment machines. Recognised all over the world, the Rock-Ola name is synonymous with jukeboxes and rock and roll. Since 1977, The Antique Apparatus Company has stood for uncompromising quality, taking great pride in having engineered, refined, and manufactured the first and finest "Nostalgic" Jukeboxes. In 1992 Antique Apparatus and Rock-Ola combined their strengths and merged to create the best Commercial & Nostalgic Jukeboxes on the market and they continue to do so today.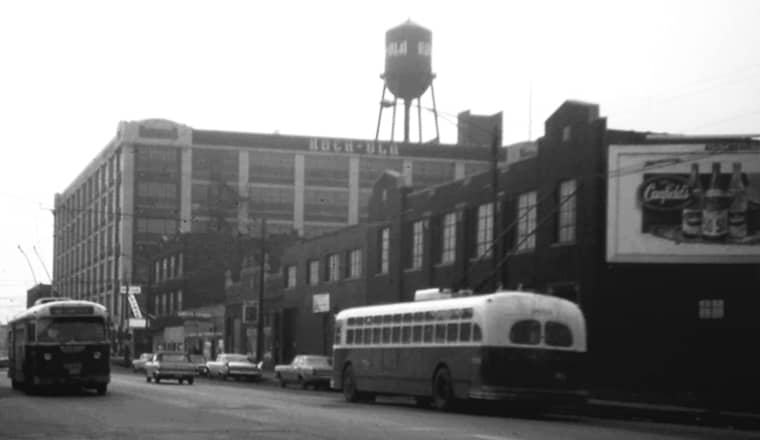 INSPIRED BY "ROCK & ROLL"
Rock-Ola Manufacturing Corporation was founded in 1927 by the Coin-Op pioneering legend David C. Rockola. In 1935, Rock-Ola vaulted into jukebox manufacturing. He inspired the term "Rock & Roll" and has left an indelible mark on an industry that literally echoes his name. Rock-Ola sold more than 400,000 jukeboxes under the Rock-Ola brand name, which predated the rock and roll era by two decades.