slide
slide
slide
slide
slide
Original 1956 Rock-Ola 1454 Jukebox 'Coming Soon'
Vinyl player

Valve Pre-amplifier
Order direct from the manufacturer

1 Year warranty on all jukeboxes and speakers
This 1956 Rock-Ola model 1454 is a wonderful example of this rare and exceptionally beautiful machine.
This jukebox is currently undergoing a thorough 'nut-and-bolt' restoration, which will not only restore her functionality but will also bring out the exquisite art deco detailing. She really is an absolute gem, and when finished being restored will have to be seen up close to be fully appreciated!
The 1454 holds 60 x 45rpm records, which provides a total of 120 selections, and in common with most jukeboxes of the period one can enjoy the theatre of watching the discs being selected from the carousel before being lightly placed on the turntable by a mechanical arm.
Rock-Ola introduced the 1454 jukebox in 1956 and it features the same 120 play mechanism and cabinet as its predecessor, the 1448. There were however a few cosmetic changes, which included a blue mechanism cover (changed from the gold of the previous model) and a squarer design on the lower kick panel. (the 1448 featured a horizontal ribbed effect)
On the 1454 model, the Rock-Ola badge was moved to the upper centre of the speaker grill, and metal grills replaced the waffle glass panels on either side, which on the previous model 1448 had proven themselves rather prone to breakage. The Rock-Ola 1454 side cabinet features a two-tone wood finish, which has a marble appearance on the top section and mahogany wood grain on the bottom.
Minimum lead time of 6 months
Dimensions: (H) 142cm x (W) 79cm x (D) 69cm
Imperial: (H) 66" x (W) 31" x (D) 27"
Fully restored to mint condition, inside and out
Capacity: 60 45rpm records (120 selections)
Full view mechanism
A very rare machine
Year of release: 1956
Made in USA
$800 flat rate fee for shipping jukeboxes within the USA* (*excluding Hawaii & Alaska - please contact us for a shipping quote to these territories)
$15 delivery for orders under $500
For delivery outside of USA see our shipping page
Our Jukeboxes are supplied with a full one-year parts warranty. More about our warranty here.
Allow us to explain how and why we go to such extreme lengths when repairing and restoring vintage jukeboxes.
Over the years we are fortunate enough to have gathered together a select few individuals whose enthusiasm for jukeboxes, ensures that they are never less than 100% committed to the task in hand. They quite simply love breathing new life into old machines and want to see as many of these classic pieces preserved for future generations as possible.
Not for them the perfunctory checklists and proverbial 'tyre kicking' which pass for an inspection at other dealers but instead an unflinching determination to get to grips with the detail. This usually begins with a thorough strip down of the machine and a forensic examination of the internal workings. They'll be aware of the particular quirks of any given piece and instead of just replacing failed parts they'll always go the extra mile, swapping out components which are likely to fail in the near future.
An obvious comparison would be between a classic car which remains on show in a garage and one that you can actually enjoy driving.
Rare though many of these machines are, rarer still are the examples which have been properly restored or can truthfully be said to be in full working order. It goes without saying that when unrestored machines come up for sale online or at auction, they'll often be priced rather lower than the machines restored sold by Rock-Ola, and the point we wish to get across above all others is that there's a reason for this.
Features of this Juke Box
Limited Edition

Limited edition - rare model.

Vinyl Player

Vinyl player - directly plays records through this machine.

Rolls Pre-Amplifier

Rolls pre-amplifier - for a quality, authentic jukebox experience.
SEE IT BEING BUILT
When you buy any Rock-Ola jukebox you have the option to come and see your jukebox come to life in our factory! You can meet the team that handcraft our jukeboxes and learn the intricacies, skill and passion involved in creating these iconic machines. You'll be contacted after your purchase with more information!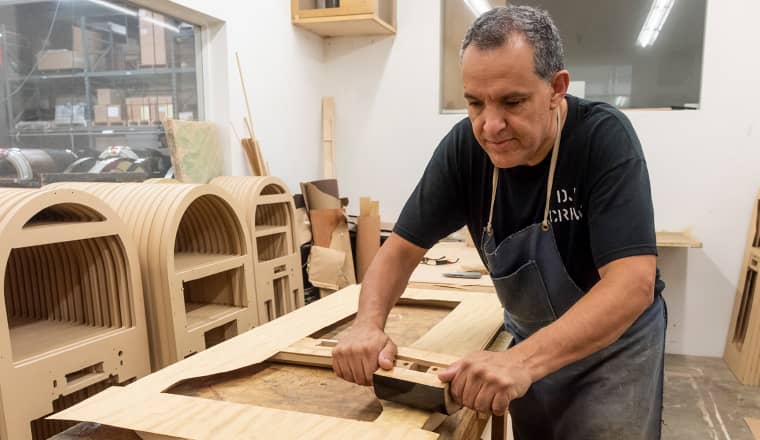 THE HISTORY OF ROCK-OLA
Since 1927. Rock-Ola has manufactured quality entertainment machines. Recognised all over the world, the Rock-Ola name is synonymous with jukeboxes and rock and roll. Since 1977, The Antique Apparatus Company has stood for uncompromising quality, taking great pride in having engineered, refined, and manufactured the first and finest "Nostalgic" Jukeboxes. In 1992 Antique Apparatus and Rock-Ola combined their strengths and merged to create the best Commercial & Nostalgic Jukeboxes on the market and they continue to do so today.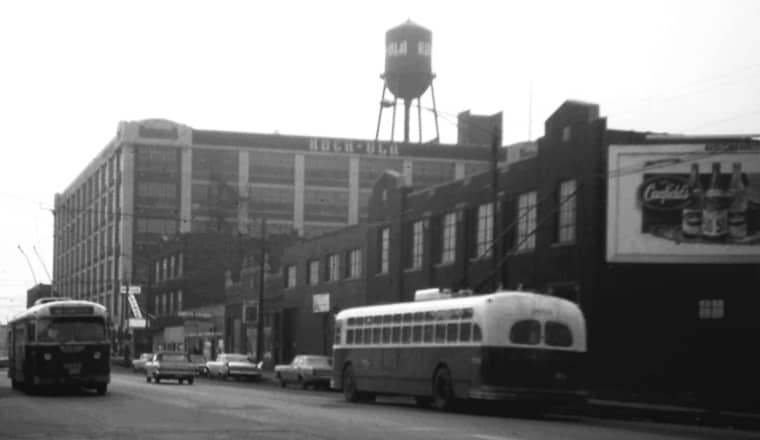 INSPIRED BY "ROCK & ROLL"
Rock-Ola Manufacturing Corporation was founded in 1927 by the Coin-Op pioneering legend David C. Rockola. In 1935, Rock-Ola vaulted into jukebox manufacturing. He inspired the term "Rock & Roll" and has left an indelible mark on an industry that literally echoes his name. Rock-Ola sold more than 400,000 jukeboxes under the Rock-Ola brand name, which predated the rock and roll era by two decades.