slide
slide
slide
slide
slide
The 1468 Rock-Ola Tempo I - 120 selection vinyl jukebox - Coming Soon
Vinyl player

Valve Pre-amplifier
Order direct from the manufacturer

1 Year warranty on all jukeboxes and speakers
Launched in 1959, the Rock-Ola 1468 Tempo I 120 is one of two versions launched by the iconic jukebox manufacturer in that year. This model offers a 120 selections from 60 records. It plays 45rpm singles and has a wonderful, rich quality to the stereo sound.
Like all our vintage jukeboxes, the 1468 has undergone a thorough restoration and is therefore in superb condition inside and out. As you might expect, she plays as well as she looks, and no one can deny that she looks stunning. The design of the Tempo 1 draws heavily on automobiles from the 1950's, with striking chrome fins extending outwards and a dramatic chrome 'V' dominating the front speaker panel, strongly evoking the classic Cadillac logo from the period.
As with most jukeboxes of the period one can enjoy the theatre of watching the discs being selected from the carousel before being lightly placed on the turntable by a mechanical arm. 
These jukeboxes are further distInguished by a complete title strip assembly which displays all the selections at once, organised by musical styles. Pushing one of the top category buttons lights up an arrow pointing to a vertical section of title strips for the corresponding category.
This is one of the most sought after jukeboxes ever made by Rock-Ola. Classic mid-century design and a truly authentic tube amplifier sound, it plays 60 x 45rpm vinyl records. It has been fully refurbished and has had a full "nut and bolt" restoration. Our engineers have completely taken the whole machine apart, the last time it was in pieces it was in our former factory in Chicago!
The wooden cabinet has been stripped back to the bare wood, filled repaired and repainted. The metalwork has been polished and re-chromed, we used the same company that does our chroming in California. The mechanism has been completely stripped and refurbished. Importantly the amplifier has been set up and perfectly paired to the original speaker system, it rocks! It is sold in a grade A1 condition. 
She is just about as good as we can get her, we know a thing or two about Jukeboxes, we have been making them over 90 years!
Model Tempo 1468
Made in Chicago, USA
120 x 45rpm vinyl record selections
Amplifier - 33320 Nova
Power Supply 35240-A
Speaker - Bass: Jensen 35391 12" 16 Ohm
Cartridge -Cartridge - Columbia SC-1
Key - F-592
Dimensions: (H) 153cm x (W) 76cm x (D) 70cm
Imperial: (H) 61" x (W) 30" x (D) 27.5"

Weight 142 kg / 313 lbs
$800 flat rate fee for shipping jukeboxes within the USA* (*excluding Hawaii & Alaska - please contact us for a shipping quote to these territories)
$15 delivery for orders under $500
For delivery outside of USA see our shipping page
Features of this Juke Box
Limited Edition

Limited edition - rare model.

Vinyl Player

Vinyl player - directly plays records through this machine.
SEE IT BEING BUILT
When you buy any Rock-Ola jukebox you have the option to come and see your jukebox come to life in our factory! You can meet the team that handcraft our jukeboxes and learn the intricacies, skill and passion involved in creating these iconic machines. You'll be contacted after your purchase with more information!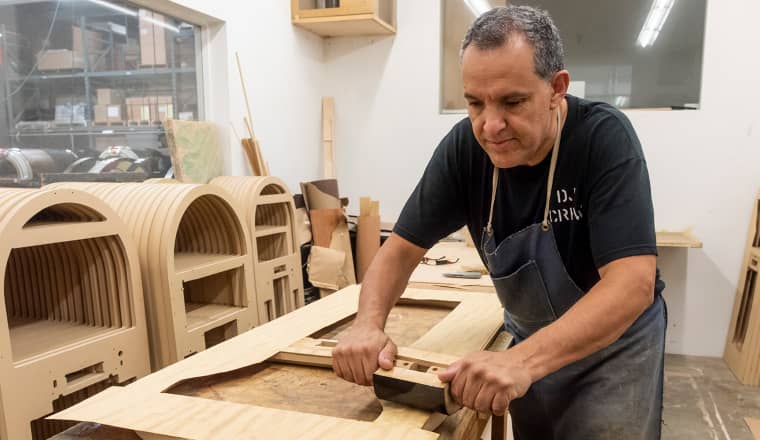 THE HISTORY OF ROCK-OLA
Since 1927. Rock-Ola has manufactured quality entertainment machines. Recognised all over the world, the Rock-Ola name is synonymous with jukeboxes and rock and roll. Since 1977, The Antique Apparatus Company has stood for uncompromising quality, taking great pride in having engineered, refined, and manufactured the first and finest "Nostalgic" Jukeboxes. In 1992 Antique Apparatus and Rock-Ola combined their strengths and merged to create the best Commercial & Nostalgic Jukeboxes on the market and they continue to do so today.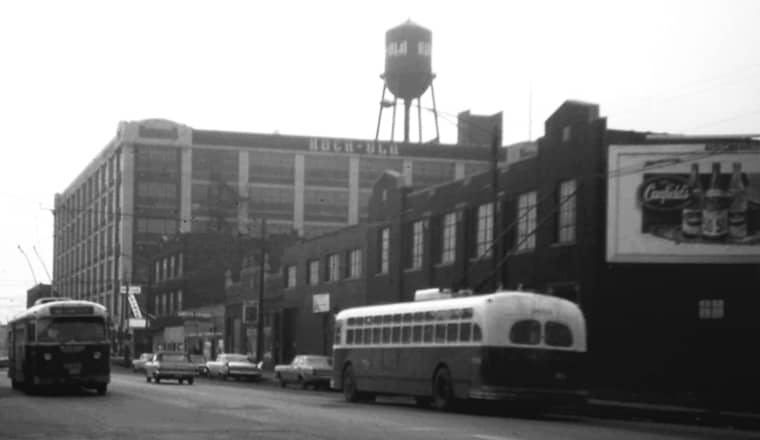 INSPIRED BY "ROCK & ROLL"
Rock-Ola Manufacturing Corporation was founded in 1927 by the Coin-Op pioneering legend David C. Rockola. In 1935, Rock-Ola vaulted into jukebox manufacturing. He inspired the term "Rock & Roll" and has left an indelible mark on an industry that literally echoes his name. Rock-Ola sold more than 400,000 jukeboxes under the Rock-Ola brand name, which predated the rock and roll era by two decades.